Originals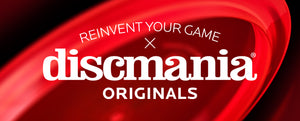 Discmania Originals
Discmania Originals is our heritage collection. First launched in 2006, we're now reinventing them with our state-of-the-art production facility in Sweden. Discmania Originals has something for disc golfers of all skill levels.

We've learned from our previous production of Originals and have developed molds to produce consistent discs in industry-leading plastic blends. From the industry-standard P2 putter to gaining maximum distance with the popular DD3, Originals has options to fill the entire spectrum.
Our new plastic
At Discmania, we want to create the most attractive products in disc golf — both to your eyes and to your scorecard.
Feast your eyes on our new stunning C-line & D-line discs! Made from beautiful italian plastic blend, the new C-line is a plastic like no other! It provides perfect stiffness, durability & feel in hand and glides like there is no tomorrow. For the new D-line plastic, we've developed a unique texture to give you the best grip available on any baseline plastic on any condition. We've designed three different flexes to our New P2, all with the unique texture to give you the ultimate choice.
Release Plans
We are committed to bring the following new Originals models to the market this year: P2, MD3, DD3, PD, and FD. Some of these models will feature our popular Signature Series versions like Cloudbreaker, Sky God, and Iron Samurai.

Manufacturing has been underway for a few weeks now and our production capacity is steadily ramping up. Momentum is strong and we are not slowing down. Expect these models in the new C-line plastic later this year in both Q3 and Q4.
Players thoughts about new Originals

"I was a bit scared. But after feeling them, throwing them, you know. This is the future. I´m happy to be on board. This is the next step towards Discmania being one of the biggest disc golf companies." -Eagle McMahon