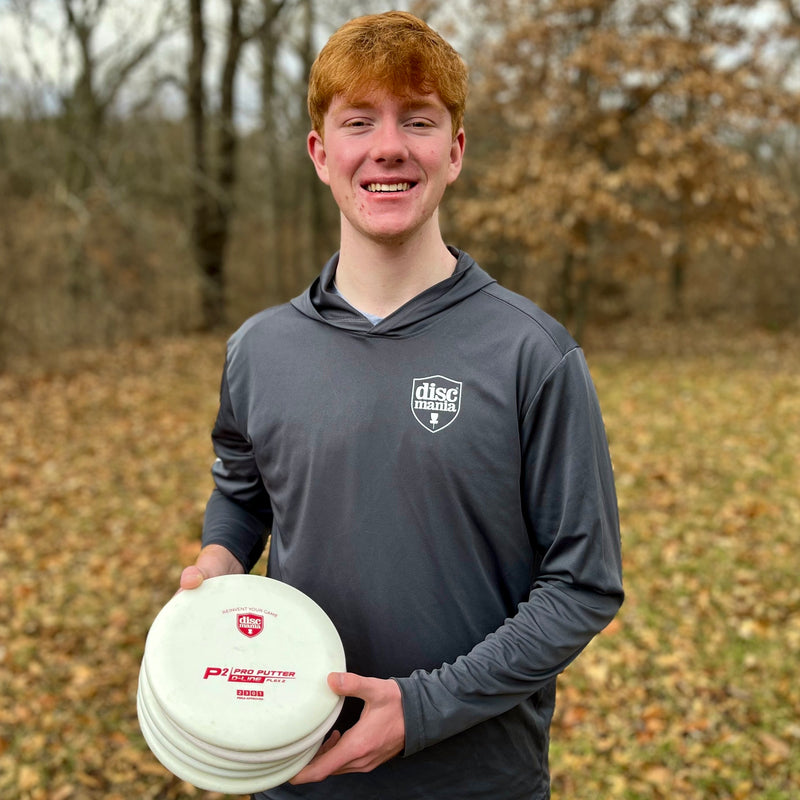 Isaac Scheer
From: Liberty, MO, United States
Born: 2005
Handedness: Left
PDGA: #148156
Joined Team Discmania: 2023
About Isaac:
I was introduced to the sport of disc golf on Memorial Day of 2020 at Fort Zumwalt Park in St. Louis, Missouri. My cousin, Caleb, asked my dad, brothers, and I if we wanted to go play a round at the local park course. We agreed to go try it out because we had nothing better to do, and when we showed up to the course, we were amazed at the number of people playing disc golf. We started off laughing about how a bunch of guys were warming up and stretching before playing disc golf, but we soon realized that was such a crucial part in playing. Of course we weren't great the first time we played, but once we got back home a couple days later, my dad immediately went to the local sporting goods store and bought a few discs. We were instantly hooked after we played for the first time.
We started playing every single day, sometimes multiple rounds a day. Before we knew it, we started playing in leagues, got our PDGA numbers, and competed in our first sanctioned tournament. I knew soon after I started playing disc golf that this was the sport for me. Not only was the disc golf scene very inviting to my family and I, but I saw multiple opportunities to grow the sport. Whether it was through teaching people how to play or course designing, I knew it was something I wanted to be a part of.
In July of 2022, I competed in the Discmania Combine in Wichita, Kansas. From the Combine, I advanced to the interview process, and was then selected to be a part of Team Discmania. I'm excited for what the future holds as a part of Team Discmania, and I'm grateful for everyone who has helped me get to where I am now!
Notable titles and feats:
2022 TruBank Des Moines Challenge
40th Annual Kansas City Wide Open
11th Annual Winter Blast
2021 Capital City Classic
2022 Maverick's Disc Golf Championship
Follow Isaac:
Top 6 Discs:
S-Line DD3, C-Line FD3, C-Line FD, C-Line MD3, S-Line MD1, C-Line P3